Testimonials
Would you like to provide feedback on your experience with Sprockett's?
Feel free to fill out our form on our Contact Us page
---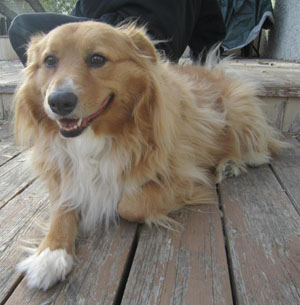 SANDY
A very special dog with a very strong will to get better. Check out the Manitoba Mutts Blog describing her journey. We are very proud of her!
NOTE: The original Blog is no longer available on the Manitoba Mutts Blog. The link above is from the "INTERNET ARCHIVE WAYBACK MACHINE"
---

We love Sprockett 's ! It is evident that Cash is in the best environment with top notch caregivers . Theresa and her team are very knowledgeable and willing to answer any questions I have about him. He is always so excited to play with his friends at Day Camp ! He is always pooped and content after his day of fun ! Such a bonus that they post daily pictures on Facebook . My husband and I enjoy seeing what Cash is up to during his time away. Thank you Sprocketts , you are well worth the 40 minute drive in to the city and absolutely the best Doggy Day Camp!

Tori, February 23, 2017

Ellie can't wait to get there. Best place in Winnipeg for dogs. Ellie comes home tired out from playing all and socializing with other dogs and the staff is wonderful

Michelle, February 1, 2017

We love Sprocketts, and so does our Roxi! They love her and treat her as their own. Pure trust in all the staff who are always smiling and so genuine. It's difficult leaving your fur baby, knowing she's in great hands makes it easier. Keeping her on her routine is appreciated, they truly make her feel at home. She's always excited to go. Highly recommend Sprocketts!! Thank you for the wonderful service you provide, your team is apart of our family

Candace, January 24, 2017

My pup has been coming to Sprocketts daily for the last 3 days. The last 2 mornings, she is excited to greet the staff, and tries to get through the doors to the play area. It's clear that she has a wonderful time and that the staff are great! Love seeing the daily pictures too!

Elise, January 13, 2017

We bring Josie in for the weekend every month! We love having a place to take her that is safe and caring. She always comes home happy and tired.

Kaley, December 30, 2016

First time I've ever been. My parents booked a full groom, and a day of daycare for my pup Juliet, as part of my birthday gift. she didn't want to leave AND she looks AMAZING! We will deffinitly be coming back!

Sidney, November 7, 2016

Sierra always has a great time and then sleeps all night.

Jill, September 28, 2016

Dexter loves this place! It's his favourite daycare in the city, hands down! Thank you, a million times, to the wonderful staff who take such good care of him while we are away.

Leah, September 17, 2016

In my opinion it's ausim my dog Mia loves to go & play with her friends each & every time I take her there.

Cathy, May 16, 2016

This was my dogs first time at Sprockets and I don't have enough words to say just how wonderful they are! Looner loves to play with other dogs but let's face it, I am worried about him when I am not there. He is my baby after all . But from the time I brought him in to the time I picked I wasn't worried at all. Thank you Thank you for taking such good care of my fur baby

Charlene, April 29, 2016

Mr Webster loves his weekly visit to Sprockets Doggy Day Care. He gives it 5 paws up!

Don, April 6, 2016

Sprockett's is fantastic. We think it is just amazing and wonderful how they treat every dog as if it was their very own. They have a genuine love and passion for taking care of your furry family member and providing them with a safe, fun filled and comfortable environment. Our pocket beagle, Maggie, just loves it when she gets to visit her friends at Sprockett's.

Jeff, February 24, 2016

Our Golden has been coming to Sprockett's for daycare since April 2012. We have a handful of dog daycares that are a lot closer to our house than Sprockett's is but we make the drive every week because we like the facility, the access to secure outdoor space and especially Theresa, John and the rest of the staff! This is also the only place our dog stays when we travel. Leaving her for an extended time is not something we enjoy doing but knowing she's at Sprockett's makes it just a bit easier. The no kennel environment and 24 hour staffing is very important to us and we know she is well looked after, plus the daily pictures help us to see she's not missing us as much as we miss her!

Madison, January 27, 2016

We at HHBCR would like to thank Theresa and John for being so generous to our rescue. Wonderful people, wonderful facility! Highly recommend!!!

Sally, December 29, 2015

Sprockett's is just a fabulous place to take your furry family member. Mya had a bit of a bad experience at a different Dog Day Care. Once I brought her to Sprockett's she just starting having a great time. Now if she doesn't go at least twice a week she start to yodel when I am getting ready for work, so off to Sprockett's she goes. I think she has me trained now. Just great staff and wonderful place to take your furry friend.

Nancy, December 18, 2015

So glad we were told about Sprocketts. Never miss a chance to tell other dog owners about it. Louie comes home happy and exhausted! Thanks to Theresa and staff for all their kindness, great work and patience!

Gayle, December 17, 2015

I brought my 9 month old boxer puppy Isla to Sprocketts in hopes of helping me with her fear of other dogs and people. They introduced her slowly with one dog and eventually with the smaller dogs. She was 60 pounds and definitely not a small dog but they did not want to overwhelm her. The staff are AMAZING! Now after a month and a bit Isla is now playing with all the big dogs her size and has the greatest self confidence. I am so grateful for everyone who has worked so very very hard with Isla and I can't thank you enough! You have changed her for the better and I thank you and so does Isla!!!!!

Melissa, November 5, 2015

Very happy with Sprockett's for my 14 week old puppy. The staff are friendly and interactive with the dogs. The facility is kept clean and it looks very professional.

Amber, October 22, 2015

Best place on earth your dog will love it here and I know that she is not only well taken care of she is loved and treated like one of there own. Highly recommended.

Lynda, October 21, 2015

We were very fortunate to find sprocketts through a client of ours the best move I ever made my puppy loves to go to daycare & they take very good care of the pets.

Cathy, October 18, 2015

Excellent complex for all dogs, the staff is outstanding, you can see the staff generally cares for the dogs. I highly recommend it for anyone whom is searching a dog daycare.

Jesse, September 18, 2015

My dog Roxie-Roo loves it there and I know she is very well cared for and loved

Lisa, August 21, 2015

Sydney loves them more than she loves us... I couldn't think of anyone I would rather leave my pup with. They are exceptional - I really can't recommend them enough!

Christine, July 27, 2015

Dex hasn't been to any other day cares and for good reason! This place is amazing! He gets all the love, attention and play time he could every want. Great environment for sleepovers and the available grooming services are a perfect one stop shop. I was concerned because for a bit he was starting to get a little snippy with other dogs. But the staff handled it extremely professionally and instead of kenneling or putting him away, did some great behavioral training. I love this place and Dex does too!

Jessica, July 6, 2015

Safe, fun environment. Vickie starts to whine while we are still blocks away because she is so enthusiastic and excited to go there.

Jen, April 23, 2015

The owner and staff at Sprocketts are unmatched. They go out of their way for you and/or your dog if you need them. We happened to need them are they were there 100% to the end when we had to surrender our dog. Now they keep an eye on our other dog who is grieving. They make it their business to KNOW your dog/s. A safe, happy, healthy place to leave your dog. thanks everyone

Lisa & Claude, March 24, 2015

I can honestly say the word Sprockett's, and my pups ears perk up. He absolutely loves going, and comes home exhausted and happy. Definitely worth the commute!

Jenn, March 18, 2015

We have been taking Mauley to Sprockett's since last winter, when cabin fever was setting in. She loves going to "daycare" and we immediately knew this was the place for her. Her endless energy is spent here on days when we are all busy working or in school, and she comes home a very tired and content dog. The people at Sprockett's are the best and the grooming available during the day makes it a one stop shop. Sprockett's has also made the loss of our senior girl Ginger more bearable for Mauley, giving her social time with other dogs. Thank you for all you do!

Edie, March 4, 2015

Yesterday was the first day my little girl attended Sprockett's. Love the people there (they are so welcoming) and they are very attentive to the dogs. In the five years I've had Foxy, I've never seen her so quiet as she was last night and that was due to her being exhausted from the fun day she had. Definitely recommend Sprockett's!

Julie, February 26, 2015

Just a great place with great staff ! They've always provided outstanding care for my dog!

Frank, February 9, 2015

My Tulla loves coming here. She gets so excited when we pull up outside! I would recommend this place to anyone!

Brenda, March 29, 2014

Sprocketts really takes the time to meet every dogs individual needs.

Suzanne, March 26, 2014

Charlee has only been here twice, but she has the best time when she is there! They are great with all their dogs at Sprocketts! Charlee is always so tired after only being there for 5-6 hours of play time! I will definitely be bringing her there again!

Barb, March 18, 2014

I would just like to thank all the staff at Sprockett\'s. You guys do a wonderful job keeping our dogs happy all day. The morning that I\'m bringing Rico in, all I do is say the word Sprockett\'s and he is ready to go. Great place, and the pictures you provide for us are excellent. The pictures show how much all the dogs enjoy their stay. Thank you, Susan

Susan, March 10, 2014

Thanks so much for the great care you gave Smoke and Roxy. They have been sleeping for the last 24hours! I wish I lived closer so they can visit everyday!

Angel-Lynn, March 5, 2014

Our Charlie's home away from home. Dogs need to be social with other dogs and humans when mom & dad away. A visit at home for an hour would never cut it for our sociable golden who loves contact and touch. Dont hesitate to bring your fur babies here for overnight camp!

Tanya, February 25, 2014

Dixie, Ruby and Molli, my 3 Great Danes absolutely love Sprocketts! I sincerely thank Theresa, John and the all the staff for loving my girls like I do, in such a beautiful facility. Thank you!

Julia, February 11, 2014

Sprockett's is actually out of the way for us, but we go there because we feel that we and our dog are treated better here than anywhere else. Other places have forced us to commit to one specific day per week with no flexibility. Here, we can bring Buddy as often as we like, and we can get him bathed while he's there. Seriously awesome.

Jennifer, December 29, 2013

Brought my 4 month old lab for her first day yesterday. she had so much fun, she slept for 12 hours when we got home!!! She loves it there! and so do I!

Brittany, December 2, 2013

Oh my just brought Suki home from her first day at daycare and she can't even stay awake Thank you so much for giving her such a great day. She will for sure be coming back :)

Christine, November 6, 2013

Today was Rosie's first day at Sprockett's and she is absolutely exhausted. When we got home, she went straight to her bed and instantly fell asleep!! It makes me so happy that she had a super fun day playing with her doggie friends instead of being in her crate all day while we are at work.

Angie, October 31, 2013

Our little Gus started at Sprocketts last week and is loving it. Everyone is awesome and I'm so glad my friend Penny Flatt posted it on Facebook.

Kim, October 29, 2013

Thank you Sprockett's Doggy Day Camp for letting us host our Great Canadian Pug Crawl at your facility. We love going to Sprockett's...so clean, spacious and such friendly staff!! You helped us raise much needed funds for our dogs in our care. Thank you again!!

Manitoba Pug Rescue, September 18, 2013

Thanks for taking such good care of Dexter for the past month!! I know he will be excited to come back for November

Jennifer, September 16, 2013

Thank you for taking such great care of the kids! They were exhausted when they came home and I missed them so much I'm letting them sleep in my bed!! I had a much better trip knowing that my babies were taken care of! You guys do wonderful work!

Angel-Lynn, August 12, 2013

The staff are so nice and my dog loves it there! Close to home and affordable :) it's clean and they always post updates of your pet that are fun to watch;)

Natalie, July 24, 2013

We placed April into Sprockett Doggy day care and she had a great time. We are not from Winninpeg and was hesitant, but they treat her so well and she had such a good time we would recommend Sprockett to any dog lovers looking for day camp

Jeanette, July 20, 2013

I love that my Dog is absolutely exhausted and super happy

Judi, July 9, 2013

Thanks for all the fun at daycare today! Sammi had a great time and will be back soon for sure!

Leslie, July 4, 2013

We had a blast today at Sprockett's!!! Fun in and out of the pool. We will sleep all night. Thanks for looking after us. From Trek, Maxx and Lil Bit.

Joy, June 27, 2013

I wish we could find another doggie daycare as excellent as Sprockett's in Calgary! We definitely recommend it to anyone in the Winnipeg area and will be back when we are in town!

Richelle, April 20, 2013

Thank you all for the wonderful place you provide for Rusty. Again he is wiped out lol.

Tara-Dawn, April 26, 2013

Today was Famous's first day and he really enjoyed it, going back on Friday! The staff is awesome! Perfect place for your fur babies :)

Sabrina, April 17, 2013

Today was our Jasper's first day at Sprocketts. He loved it and is now home sleeping. The owner is great and the staff were extremely pleasant. Jasper will be back for sure.

Chris, April 17, 2013

Our dogs wanted to make some recommendations—so they dictated and I (their mom) interpreted and typed...
From Elwood: Thank you for taking such great care of me. When I was very sick and no one could figure out why, you still cuddled me and took the best care of me ever. You didn't let me scare you away with my growlies and snapping, and you helped mommy and daddy have the time to work through all the crazy behaviours so they could figure out why I was acting this way, without having to take any drastic measures. I am forever grateful to you for, basically, saving my life...and of course...for giving me a loving, fun "home away from home" for 17 days when mom and dad went away! Woo Hoo...that was so much fun I forgot who they were!
From Jake: Thank you for teaching me that there are comfy couches, other cuddly doggies in this world, and there are kind and gentle people. Your guidance and caring have helped me catch up on the much needed socialization I missed out on from spending years in a puppy mill. Thank you for Gabbie and for Gibson and all my other friends.
From Casey: Thank you for taking such great care of my life's biggest crush, Elwood. And, of course, me too! I love to play with all the other doggies at Sprockett's. P.S. Mommy says you are the real-deal "dog whisperer" not that other guy...
Meridel, April 16, 2013

Sprockett's is such a great place! My two dogs (one super shy and one very outgoing!), have been going since they opened. Their dedication and personal attention for all pups is outstanding and much appreciated.

Stacy, April 9, 2013

THANK YOU so much for everything today! All of our supporters, love your facility!! Excellent Customer Service!! We couldn't be happier with how today turned out!!

Boston Terrier & Pug Rescue of Southern Manitoba (BTPRSM), March 24, 2013

Love this place. Our older dog Monty receives such great care and always has a smile on his face in the pics.

Angela, February 3, 2013

We mention "Sprocketts" Winston and Cooper are at the back door ready to go, they love this place!

Marianne, December 21, 2012

Highly recommended!! Incredible, caring staff have helped me SO much with advice about Minnie (I'm a first time dog owner.) And as for the pooch -- exercise, fun, socialization, dog's at an all day dog party -- Sprockett's is fantastic. I also love I can get her shampoo and nails cut there every couple of months. They do it so much better than I did....

Carolyn, December 18, 2012

I LOVE this place! Definitely A+++!!! I have brought both of my dogs there multiple times and they always come home happy and exhausted - its such a wonderful place! I continually tell people about how great this place is and will continue to spread the word. Thank you Sprocketts for taking wonderful care of my dogs - I know that when I leave them there for the day that I can be worry free as I know they are having a great time!

Jessica, November 28, 2012

If you love your dog you must take them to Sprokett's! This is an amazing place...from the huge facility to the fun atmosphere and of course the wonderful caring people that watch over all the dogs. Britta, our german shepherd gets excited everytime we take her there and she is exhausted everytime we pick her up. It's an amazing place that help build those much needed puppy social skills. Highly, highly recommended!

Maria, November 28, 2012

Thank you so much to everyone at Sprockett's for hosting our annual Christmas bash!! We had such an amazing time and the event was a great success! You guys are AWESOME!!!

Hull's Haven Border Collie Rescue, November 18, 2012

A+++. Our dog (Sydney) is big, high energy, high maintenance and can be lots of work. The staff at Sprockett's has done wonders for her, she comes home exhausted and happy every time. Cannot recommend them enough.

Rob, November 12, 2012

Sprockett's is amazing. They're SO good with the dogs. It's like a huge, chaperoned all-day dog party.

Carolyn, November 1, 2012

We had Daisy at Spockett's for a half-day. Wonderful place....we'll certainly make a habit of it."

Clive, November 1, 2012

I have said it before and I will say it again,,,,THIS PLACE IS FABULOUS.Theresa and her staff,and family are wonderful,my dogs love this place,,I love this place.I never worry when my babies are here.Thank you,thank you,for all that you do.

Joanne, October 13, 2012

Arya comes home tired and happy! Wonderful place!

Victoria, October 1, 2012

Nakita and I think your site is fantastic! Thank you for the awesome hospitality!

Diane, October 1, 2012

"I'll be honest with you, I wasn't so sure about this doggy daycare craze but I'd heard a lot of good things about Sprockett's Doggy Day Camp so I decided to give it a try while I was getting married recently. I knew Hershey would love it, she's a very social dog...Pita (short for pain in the ass), not so much. To my surprise, Pita seemed to enjoy it even more than Hershey! Pita's an old dog but Sprockett's definitely taught her some new tricks! So whether it's a longer stay like mine or just a few hours, I highly recommend Sprockett's.

Hal Anderson (CJOB), September 15, 2012

I've brought Jakey here twice in the last week and he LOVES it here, and he adores Theresa!! Jake was rescued from a huge puppy mill in Quebec (about 4-6 years old) and so is very timid, but very gentle and loving. His favourite place in the whole world is his couch in our basement; his second favourite place? Why, the couch at Sprockett's..which is now his!! I want to keep Sprockett's my little secret, but it's such a great place that I need to tell everyone how great it is!!

Meridel, September 1, 2012

Our dog Lucy (Beligium Malinois) LOVES Sprockets. She's a high energy breed and Sprockets helps us keep her busy so she's a lovely dog at the end of the day. Nothing but great things to say about Theresa and John!

Beth, August 8, 2012

Sara and Sadie had a fabulous time - wonderful place and wonderful people

Susan, August 1, 2012

Best thing that ever happened to Desi - from being alone 4 days a week for 11 hours to a full day to make friends and learn what it is to be a puppy. Wonderful place - have highly recommended it to everyone that I have met who has a dog - clean, well run, dogs love it there; if Desi wants to just be held, someone actually cuddles with her...Wonderful experience for her.

Pat, June 1, 2012

We have been taking our two puppies to Sprocketts and they LOVE it there, they run and play and swim, learn to be with other pets and people. The place is beautiful, clean and very safe. Theresa and her staff are very nice, and love our puppies. I highly recommend this place. When they are there I do not worry they are in good hands.

Joanne and Robyn, June 1, 2012

Really nice doggy day care!!! Very clean....friendly and caring. We give it two paws up!!!

Melanie, May 26, 2012

My dog Lucy - 9 month old Belgium Malinois can't wait to go to Sprockett's every day. She comes home from her morning walk, eats breakfast then waits patiently at the door to go. She loves your place Theresa!!!

Beth, May 7, 2012

I couldn't be more impressed with you guys! And Sixx was pooped after her first day today :) I will definately be spreading the word!

Kristine, April 1, 2012

Our 10 month old puppy definitely had the winter blues and then we heard about a new doggy day camp - what a difference! Rampage gets so excited when we tell him he is going, they take awesome care of him and all he wants to do is cuddle on the couch when he gets home. They have great facilities and interview every dog first. Rampage is addicted to Sprockett's!

Lindsay, February 22, 2012